Samyang AF Instant Savings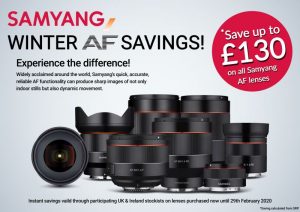 From now until 29th February 2020, there are instant savings of up to £130 (off Suggested Retail Prices) on all Samyang AF lenses, via participating stockists in the UK and Ireland.
The Samyang AF lens range features outstanding, high-resolution optics, with fast, accurate and quiet autofocus. There is a choice of 8 models available in Sony FE mount, 2 in Nikon F mount, 2 in Canon EF mount and 1 in Canon RF mount.
Full details of participating stockists and lens details can be found at: bit.ly/SamyangInstantSavings
Detailed information about all Samyang products and stockists can be found on the official distributors' website: www.intro2020.co.uk/samyang
The post Samyang AF Instant Savings appeared first on The Societies of Photographers | International Photography Organisation.
Read the original article The Societies of Photographers | International Photography Organisation